Masculin Feminin
---
A. Godard and Nouvelle Vague: Person and Politics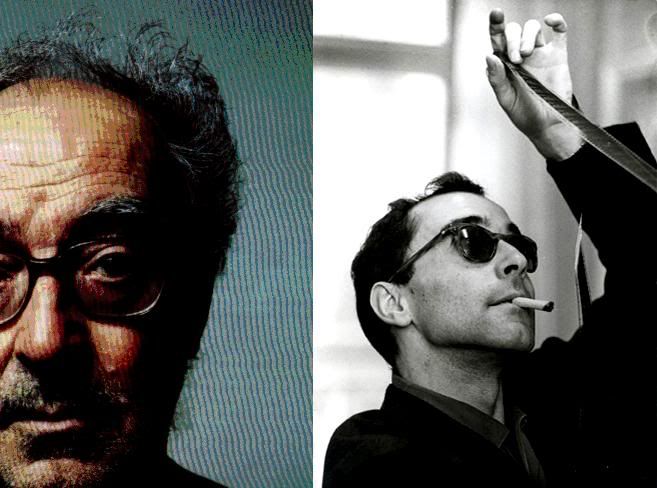 "To be or not to be. That's not really a question." – Jean-Luc Godard
A key to understanding the strong tone and aggressive framework prominent in Jean-Luc Godard's films are an overview of his background in the workings of cinema, and likewise in the revolution of European art spanning from the 1950's to the 1970's. One particularly good introductory point is Godard's advocacy of auteurship, fundamentally meaning that the director was the most powerful writer and controller of the shape of his film; taking this into consideration, perhaps it is not very difficult to see his own play of politics within his films, with his first collaboratory movie with eventual wife Anna Karina, the Algerian Independence War picture 'Le Petit Soldat', being banned by the French government for three years. A high level of personal influence characterized Godard's works, politicization as a rebuke to the powerplay of conventional filmmaking.
Godard attended Sorbonne in Paris and sought a degree in Ethnology, and this is where he came to frequent the cine-clubs du Quarter Latin and the Cinémathèque française, becoming involved with a ring of French artists and filmmakers who would eventually become the foundations for the Nouvelle Vague, or French New Wave art movement. The 20-year-old Godard, as well as his friends Francois Truffaut, Jacques Rivette and Eric Rohmer would eventually come to be known as the 'young turks' of film criticism in 1950's printings of Arts and Cahiers.
Marxist leanings became more evident in Godard's filmmaking as time progressed, but a Nouvelle Vague theme that underlined his works from the very beginning was his fully reflexive idea about cinematic realism:
"Photography is truth. The cinema is truth twenty-four times per second." – Jean-Luc Godard
Likewise, to bemoan a certain kind of nonchalance, or duplicity within the conventional narrative:
"Cinema is the most beautiful fraud in the world." – Jean-Luc Godard
To students of production methodology, Godard favors shots that give off documentary and interview atmospheres, with special attention to visual consistency within an encapsulation of real life. It is this kind of aura that realist-reflexive filmmakers aspire to achieve: a film's self-actualization or awareness of its own existence, and its arbitrary power to document something outside of itself, instead of inside of its unbroken reality.
B. 'The Children of Marx and Coca-Cola'– Youth and The Politics of Gender
[Interviewer]: Would you say Masculin Feminin is film about youth?

Godard: No, it's more a film on the idea of youth. A philosophical idea, but not a practical one – a way of reacting to things. It's not a dissertation on youth or even an analysis. Let's say that it speaks of youth, but it's a piece of music, a "concerto youth". I have taken young signs, signs that have not yet been deformed. My signs haven't already been used a thousand times. I can talk about them now, afterward, because when I made this film, I didn't have the least idea of what I wanted.

[Interviewer]: One gets the feeling that you started out with a band of young people, and that as you went along you conducted the surveys, letting yourself be more or less guided by them.

Godard: That's true. The film was a way for me to approach them. ((Godard on MASCULINE FEMININE))
The supposed 'alternate title' of the film, deliberately flashed onscreen by a textual interjection, is a hilarious and yet succinctly apt recollection and shaping of the youth that Godard sought to observe and categorize; Masculin Feminin is light and candid, and no opinions are made outside of the ones the subjects form within the interview shots. The sexual differentiations between Paul and Robert, Madeleine and Elisabeth are stark and yet subtle, and Paul's overt socialism serious and yet flighty. The age of youth, Godard seems to point out, is a paradox of confusion and untainted clarity of perspective and assertion, where individual politics and sexual discovery play their own parts as both subject and ambience to the process of growing up.
Interestingly and ironically enough, the film was prohibited to people under the age of eighteen during its first screenings—'the very audience it was intended for', and Godard was bequeathed awarded the Berlin Film Festival's Youth Award for 'best film for young people'
Sources:
http://www.brainyquote.com/quotes/authors/j/jeanluc_godard.html
http://archive.sensesofcinema.com/contents/directors/03/godard.html
http://www.rialtopictures.com/FTP/ZIP_masculine/GodardonMF.pdf
http://www.youtube.com/v/53KROTcwf-Y&hl=en&fs=1
http://www.youtube.com/watch?v=O0XQahfHczY
http://farm3.static.flickr.com/2098/2365537130_f3f8d5373d_o.jpg
http://www.bohemian.com/bohoblog/wp-content/uploads/2008/02/jean-luc-godard-2.gif
http://www.toanvuhuu.com/uploads/pics/signaletique-06.jpg
© Dancing Citrus 073724
---
MASCULIN FEMININ as a commentary on Male Politics
-064282
Because of the movie's title, I can't help but read it from a feminist (no particular movement or framework) perspective, and read the film as a commentary by Godard about a predominantly male politics.
In the movie, the males were preoccupied with politics and talks on socialism or Marx. I usually pay special attention to the cinematography, especially the composition of the frame, and I noticed that this aspect of this particular movie seems significant in showing how the female is excluded in political discourse (or maybe any form of significant, intellectual discourse, even). For instance, there is a scene where Madeline is typing and a voice over of her is heard, talking about the pressing life of a working woman like herself and how there is no "average Frenchwoman". The frame then drifts from her and follows the man in the desk in front of her, while her voice-over is still on. To me (or at least my reading of it as of now), this is symbolic of how even if women have something to say, they are marginalized while the "eyes" or the frame (of society? of film?) follows the male.
This can also be seen in the interview with Ms.1900, the "consumer product". Ms.1900 can be seen leaning on a wall in a half body shot, being 'cornered' by Paul (a supposed-to-be census guy) with questions about what she thinks about socialism or politics. One may also notice that in conversations between the opposite sexes (or more like when the males interview the females— like the Paul-Madeline, Paul-Ms.1900, ), the two parties don't appear in the same frame, rather they appear in alternate frames, answering each other.
So there. I think that for further analysis one may take a look at how the male characters are preoccupied with their politics, which Godard seems to depict as petty (e.g.: there was a scene where Paul just HAD to be radical and corrects the guy in the projection room about the ISO of the movie).
:3
kthxbai. JULZ.